HMD Specific Information¶
Fove¶
Setup¶
To capture the player's gaze correctly, you must set the Fove Interface game object with the Camera Component to be tagged as MainCamera.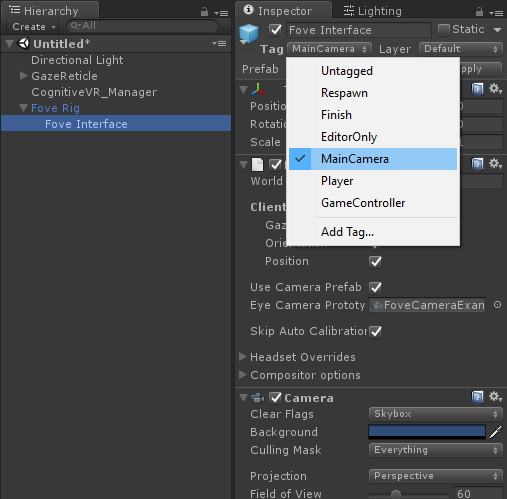 Exit Poll¶
As the Fove does not have a microphone built in, the Exit Poll microphone popup will not detect audio input unless there is a separate microphone connected and enabled.
Pupil Labs Vive Add-on¶
Setup¶
Make sure you set the ServerIP on the PupilGazeTracker component. For testing, we recommend setting the IP to 127.0.0.1.
Play the calibration scene and press C to begin calibrating the pupil labs cameras.
Multiple SDKs¶
Since the Pupil Labs cameras are installed onto the HTC Vive, you can use the SteamVR SDK at the same time. When selecting your SDK, use Shift + Click to select multiple SDKs you wish to use.
If you are only using the Pupil Labs SDK, you do not need to select Unity Default as well.
Exit Poll¶
The gaze buttons used by Exit Poll use the Vive HMD's forward direction to activate, NOT the eye tracking position. This will change in future releases of our SDK.